Pocket.watch is dedicated to surprising and delighting Generation Alpha, the most diverse generation yet, through digital-first content. We believe the best way to do that is by celebrating our differences, varied perspectives, and embracing all that makes us unique in a fair and equitable way. It's through our collective experiences that we innovate and unlock the infinite possibilities of the digital kid's landscape. Come play with us.
At pocket.watch, we bring kids more of what they love – and we do that in large part due to our most valuable asset, our employees. Pocket.watchers are engaged, playful, innovative, and collaborative. In a word, they are EPIC. And when they work here, they get to be a part of building something great, taking the initiative to bring creative ideas to life, and doing it with other fun and smart people. 
So, what does it mean to be a pocket.watcher? It means having the desire to work with others to build something meaningful. It means taking pride not only in your work but in the work of your teammates. It means being motivated, being creative, and thriving on taking the initiative to make great ideas come to life. Pocket.watchers value being able to speak up and having their voices heard. They value having fun. They value their work atmosphere, their teammates, and the opportunity to make a difference in the lives of children, not just through entertainment but through ongoing social and environmental justice initiatives.
You may be asking, "what's in it for me?" After all, where you choose to work should be about more than just receiving a paycheck. We work hard to ensure that every person we hire shares our EPIC values, understands how their work contributes to the company's success and stays connected to our goals. We support our community and our employees by taking an active role in expanding diversity in the tech and entertainment industries, working to heal and improve the environment, and educating ourselves and others. We'll make sure you get to be yourself every day in every situation. We'll listen when you have a great idea to share. And we'll support your need to take care of the things that are important to you outside of pocket.watch because, while we like to think of ourselves as a family, we understand that people have a life outside of work.
At pocket.watch, we invite you to be you. Come play with us.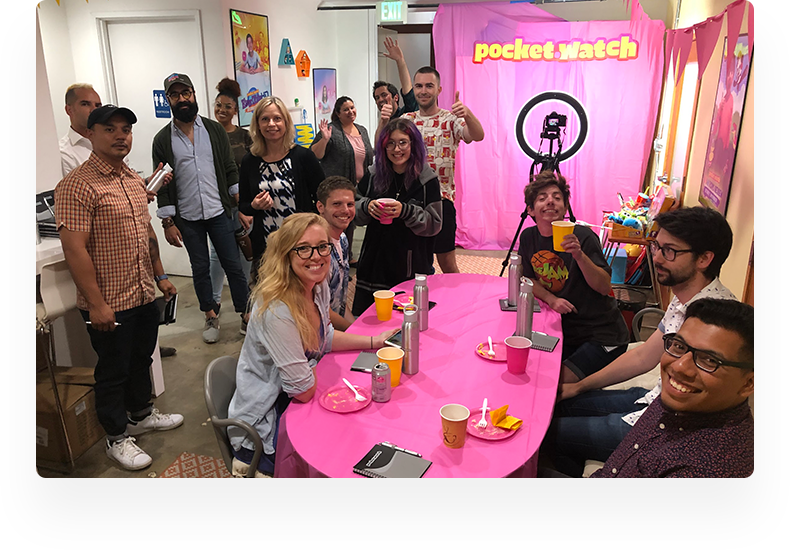 If we've sparked your interest, explore our current job openings to learn more about joining team pocket.watch.
Pocket.watch is an
equal opportunity
employer
Pocket.watch provides equal employment opportunities to all employees and applicants and prohibits discrimination in any employment decision with respect to an individual's race, creed, color, religion or religious creed (including religious dress and religious grooming), sex, sexual orientation, gender, gender identity, gender expression, transgender status, sex stereotyping, national origin, ancestry, age, medical condition, genetic information or characteristic, physical or mental disability, family care or medical leave status, military status, pregnancy, marital or domestic partner status, veteran status, or any other status protected by state or federal law.