Working at pocket.watch is EPIC! We're Engaged, Playful, Innovative, and Collaborative. That doesn't just describe our culture, it also describes the people that work here. If this sounds like you, and you have a passion for disrupting industries, then our rapidly growing team may be a perfect fit.
Pocket.watch is dedicated to surprising and delighting generation alpha, the most diverse Generation yet, through digital-first content. We believe the best way to do that is by celebrating our differences, varied perspectives, and embracing all that makes us unique in a fair and equitable way. It's through our collective experiences that we innovate and unlock the infinite possibilities of the digital kids landscape. Come play with us!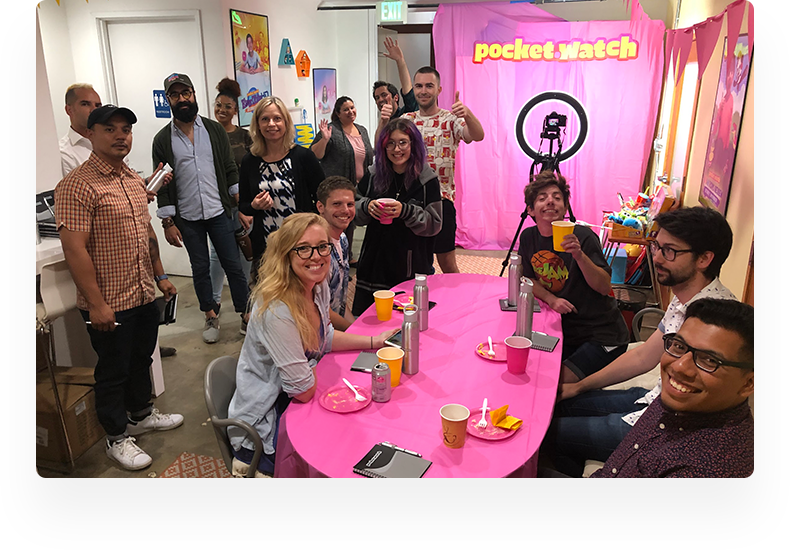 If we've sparked your interest, explore our current job openings to learn more about joining team pocket.watch.
Pocket.watch is an
equal opportunity
employer
Pocket.watch provides equal employment opportunities to all employees and applicants and prohibits discrimination in any employment decision with respect to an individual's race, creed, color, religion or religious creed (including religious dress and religious grooming), sex, sexual orientation, gender, gender identity, gender expression, transgender status, sex stereotyping, national origin, ancestry, age, medical condition, genetic information or characteristic, physical or mental disability, family care or medical leave status, military status, pregnancy, marital or domestic partner status, veteran status, or any other status protected by state or federal law.