Pocket.watch makes shows that families can't wait to watch in multiple, flexible formats!
Always innovating, we combine the best of both worlds with a blend of original shows and popular YouTube content to create new experiences for our millions of fans.
If you're looking for family-focused content that inspires, delights, and delivers the fun, pocket.watch has the perfect solution.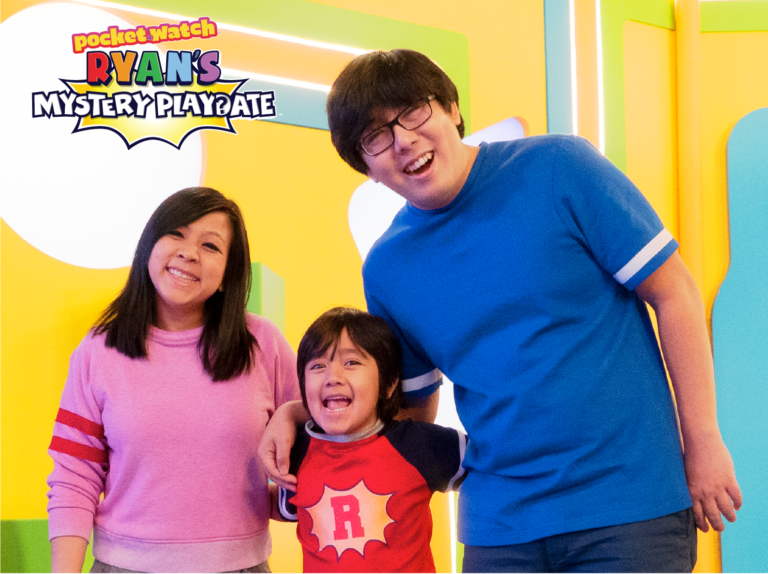 60 x 22-minute Live Action In this Emmy-nominated series, Ryan works to complete unique challenges and unlock mysteries to discover the identity of his mystery playdate! The series encourages physical play, problem solving, and positive family relationships. Every show has new surprises, activities and playdates.
Coming Soon!
Lilly Singh's Proud Princess – an animated short film that centers around a young girl discovering pride in her true identity. The film is currently in pre-production.
Misprints – 8-episode series that follows Lucky Parker, a Misprint in a world where everyone is printed perfectly. Our happy-go-lucky hero turns his physical challenge on its head when he and his Misprints Crew approach every middle school situation with blind optimism.
Rosanna Pansino Magic Food Truck – an animated series starring YouTube's No. 1 food personality Rosanna Pansino and her cooking utensil friends flying around the world in her Magic Baking Truck, serving up help and learning about local food.
For The Win! – live-action competition series for kids 7-12 where Gen Alpha's favorite YouTubers will battle it out in video games while simultaneously undergoing physical challenges.
Dani & the Weeds – an animated musical series for kids 5-8 that introduces Dani Lyons, a cheerful, often hyperactive, young dandelion with a personality as sunny as her petals, who is determined to bring the young weeds and the flora of Plentiful Petals Academy together.